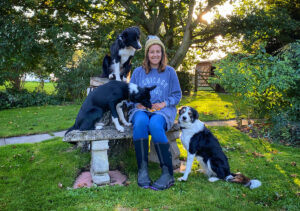 Do you need help with border collie puppy training in Spalding or surrounding villages?  I've always lived in or around Spalding, and I love the big skies, friendly village life and dog walking with my collies. It's the place that feels like home and I now live on a smallholding near Gosberton with my collies and my Herdwick sheep.
So why did I decide to concentrate on border collie puppy training?
I bought my first collie in 1993, expecting that border collie puppy training would be easy. I'd always wanted a collie ever since first competing in competitive obedience in the late 1980s and I was expecting raising a collie to be a wonderful experience.
I couldn't have been more wrong!
After a few weeks, I thought I'd made the biggest mistake of my life! Holly the collie had limitless energy. She bounced off the furniture and did zoomies round the house, frequently stopping to maul me with needle-sharp teeth on her way past. The more frustrated I became, the more excited she became, and we were stuck in a never-ending circle of mutual love/hate. Occasionally she was quiet and cute but as she turned into an adolescent, all my training seemed to be forgotten and we were back to square one.
I've learned so much about border collies since those early days, read so many books, attended so many training courses, taken so many exams and qualified as a Certified Training Partner in one of the highest thought-of dog training providers in the world, the Karen Pryor Academy. I'm now undertaking a Master's Degree in Clinical Animal Behaviour at the University of Lincoln. I know how it feels to have a collie puppy for the first time and I also now know how to raise them to be wonderful, well-mannered and loving dogs that you can be proud of.
Helping border collie owners in Lincolnshire
I want to be able to use this knowledge of border collie puppy training to help owners of border collies in Spalding and the surrounding area. Regular dog trainers often misunderstand how collies need to be trained. They're very different to other breeds and there are approaches that work well and approaches that don't. By going to someone that is well qualified and specialises in border collies, you can be sure that you and your puppy are in good hands. I can help you to navigate through all the challenges that raising a border collie brings and be there as reassurance that you are doing the right thing, avoiding some of the issues listed on our home page.
I offer one-off sessions to sort out issues such as play biting, house training or early recalls as well as one to one puppy courses that cover everything you need to know, along with regular support by telephone or messaging. Please visit our sign-up page to book a session or drop me a line on info@collieconsultant.co.uk