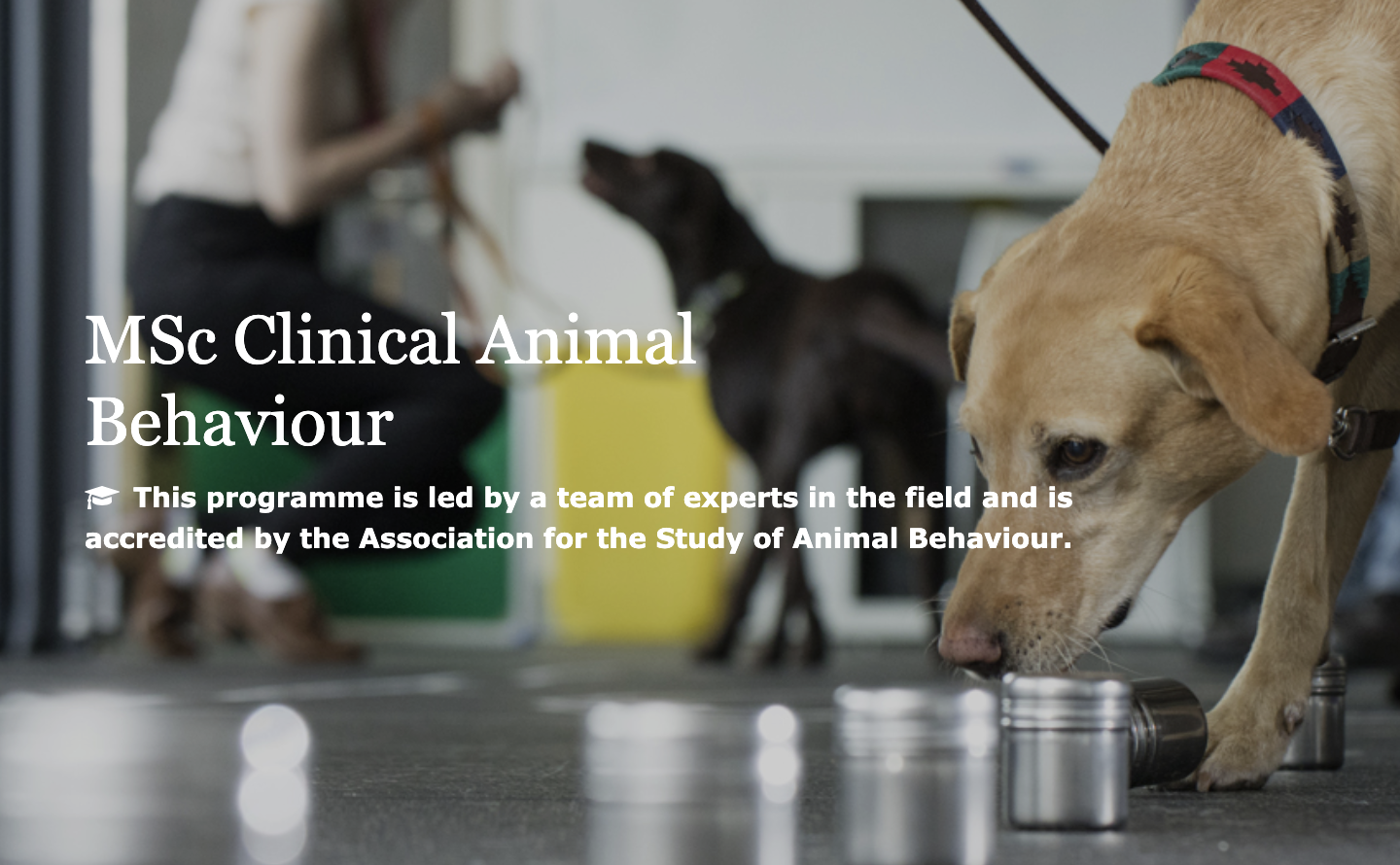 The University of Lincoln MSc in Clinical Animal Behaviour is an evidence-based post-graduate qualification and is one of only two UK courses accredited by the Association for the Study of Animal Behaviour.  This means that, as graduates, we're able to take vet referrals and help animals and their owners to resolve problem behaviours.
The course teaches us to work through a methodical process of diagnosing the cause of the problem behaviour and determine training and behaviour modification plans to help dog and owner resolve any issues, where possible.  There is a strong emphasis on research and practice on the course and we have the opportunity throughout to observe real-life cases in the Lincoln University Animal Behaviour Clinic.  We have plenty of opportunities to apply theoretical knowledge and carry out practical training and implementation of behaviour modification solutions.  It's a really thorough, practical course and I thoroughly recommend it!
The Lincoln MSc in Clinical Animal Behaviour is generally thought of as one of the two best places to study this field (alongside the University of Edinburgh) and is headed by Europe's first veterinary behaviour professor, Daniel Mills, alongside Dr Helen Zulch, Professor Anna Wilkinson, and many other leading scientists in this field.  It's been amazing to be taught by such a knowledgeable, experienced team of tutors, and to be a part of the amazing research that the teams at Lincoln are working on.  It really is a centre of excellence!
One of the best things about taking the MSc at Lincoln is the relationships I built with fellow students from across the country, from Cornwall all the way up to Glasgow. The course is so thorough, and the support from fellow students, is so good, that it gives us the confidence, knowledge and experience to go out and start our own animal training and behaviour businesses, so even if you don't live close to Lincoln, there may well be someone that I can recommend near to you.
The following businesses are headed by fellow students from the MSc course, and I wouldn't hesitate in recommending any of them!
Laura Welch Dog Trainer – Laura is based in Christchurch, Dorset
Dog Knowhow – Dog Training & Behaviour Therapy – Gemma Grisewood, Louth, Lincolnshire
Quality Canines – Natalie Smith, Dog Trainer in North Lincolnshire
Let's Play Dog Training – Lyn Caldicot, Abergavenny, Monmouthshire.
Kyra Dog trainer & Behaviourist, West London